Adidas has unveiled its latest cycling product as a set of lightweight 3D printed glasses. 3D printing is becoming more common among cycling products with the manufacturing method used for everything from frames to pedals. Now Adidas is using the technology to make a very lightweight set of 3D printed glasses.
The Adidas 3D CMPT sunglasses use a one-piece frame made from flexible nylon compound treated with a rubberised coating. The glasses have non-foldable arms and use non-slip rubber on the nose bridge and arm tips. The 3D printing results in a pretty striking design, and low weight of just 20 grams.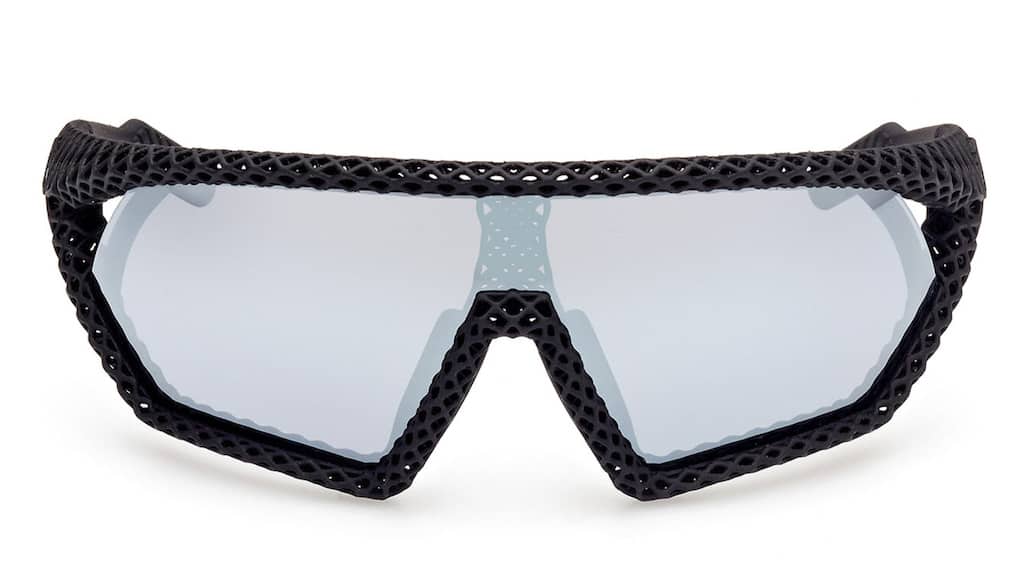 The 3D printed sunglasses have a love-it-or-hate-it design, but if you love them, you're going to have to act fast. Only 150 pairs are being produced, and you have to be a member of Adidas' Creative Club to get your hands on them. The glasses will drop online on 23 August, at Adidas.com, and we anticipate they'll sell out pretty quickly. They won't be cheap, though, and a pair will run for £300 / $415 / €350.
Earlier this year Adidas also launched a running shoe called the 4DFWD has a technology-enabled trick: The shoe eases you forward a little each time your foot strikes the ground. That's because the shoe's 3D-printed midsole, made by Carbon, is an airy lattice pierced by bow-tie-shaped holes. When compressed, its squashing motion advances your foot compared with the position of the sole on the ground. Conventional midsoles, by comparison, just compress downward so your foot mashes harder against the front of the shoe. Adidas and Carbon evaluated 5 million possible lattice structures before settling on the bowtie pattern for the 4WFWD. They tested the design with real runners and at the University of Calgary and the University of Arizona.