As a part of the regional focus at amchronicle.com and providing perspectives on developing Additive manufacturing markets, Manoj Pillai, Jumbo Electronics provides his insights on the opportunity for Additive Manufacturing in the Middle East with a focus on the United Arab Emirates. 
Additive Manufacturing or more commercially referred to as 3D printing is still in its infancy in the Middle East.  There are many companies who have focussed on 3D Printing for almost a decade, however the number of applications developed and put into serial production are very few.  The Middle East is yet to grow into a manufacturing-based economy and that could be the reason for slow adoption of AM.
UAE has been in the forefront in terms of adopting Additive Manufacturing in the in the region. HH Shiekh Mohammed Bin Rashid Al Maktoum (Vice president and Prime Minister of UAE and Ruler of Dubai) announced 3D printing strategy and road map in 2016 and since then there is a lot of buzz around 3D printing in UAE. This initiative aims to exploit technology for the service of humanity and promote the status of the UAE and Dubai as a leading hub of 3D printing technology by the year 2030. The three major sectors under focus in UAE, are Construction, Medical Products, and Consumer Products. 3D printing activity in middle east is focused on Concrete printing, Industrial parts (Automotive and Oil and Gas), Prototyping, Architectural model making and Medical.
Recognising the fact that Additive Manufacturing or 3D printing is enabling the '4th Industrial Revolution', the Sharjah Research, Technology, and Innovation Park (SRTI Park) is developing an integrated work system for smart companies in the emirate to boost innovations in self-driving vehicles, oil and gas sector, medical and allied sciences, manufacturing,  and other industries.
3D Printing Strategic Alliance
In 2020, H. H. Sheikh Hamdan bin Mohammed bin Rashid Al Maktoum, Crown Prince of Dubai, and Chairman of the Board of Trustees of Dubai Future Foundation (DFF), launched the 3D Printing Strategic Alliance. This is the first initiative of its kind in the world that creates a comprehensive network of government entities, academia and 3D printing companies not just in the UAE, but in the whole world. Aimed at developing the UAE into a leading 3D printing manufacturing hub, the Strategic Alliance initiative seeks to produce a wide range of supplies, products and services in vital sectors in order to meet market needs and achieve self-sufficiency.
The Industry
The 3D printing industry comprises typical of two mutually supporting entities. One is the companies doing 3D printing and have established themselves as service bureau. The second of them are the companies that sell 3D printers and the required consumables and provide support to the service bureaus. In addition, there are a lot of entrepreneurs in the region having 3D printing machines and provide services on individual level to customers. The majority of 3D printers in the region is small FDM 3D printers. There are a lot of FDM 3D printing machines available in the market.
Metal 3D Printing
Metal 3D printing haven't received much traction in the industrial scenario in Middle East. There are only a handful of metal 3D printers in the region. The maximum number of metal 3D printers are with universities.  There are totally not more than 10 metal AM systems installed in the region. Of which 6 of the metal AM machines are in UAE. The maximum available in one particular location is 2, which is being used for printing parts for Oil and Gas parts.
Polymer 3D Printing
For industrial application, the 3D printers installed in the region are mainly EOS and HP Multi Jet Fusion systems. A majority of the installations are in UAE. The companies that have these machines installed uses it for Automotive, Medical, and other prototyping services. The major players in the region are Immensa , Falcon Technologies International and Proto 21.
Medical 3D Printing
Medical 3D printing is one of the key sectors that will see a lot of growth in the near future. This will be mainly in Orthotics and Prosthetics and in surgical models for planning. In UAE almost all the dental labs have a 3D printer in house for creating Dental models. Most of them uses resin-based SLA or DLP machines. A few dental labs have metal 3D printers to support the 3D manufacturing of caps.
Architecture, Model Making, Fit Outs , Concrete 3D Printing
By far the maximum application of 3D printing in the region is in model making. The parts which were taking weeks to make through hand are being 3D printed in very good detail and finish using 3D printing. All 3D printing technologies, FDM, SLA , MJF, SLS find application in model making. Recently there were big size 3D printers (1.8 X 1.4 X 1.1 meters) installed for making fit outs for events, exhibitions etc.
Concrete 3D printing is one of the promising technologies that finds a lot of adoption in the region. Dubai plans to have 25% of new building to be made through 3D printing by the year 2030. Many companies are investing in the technology and supporting the research and development efforts locally. The number of houses made using the technology is very minimal due to cost factor. With the advent and adoption of new designs, concrete 3D printing will help in faster construction and reduction of cost and further growth of technology.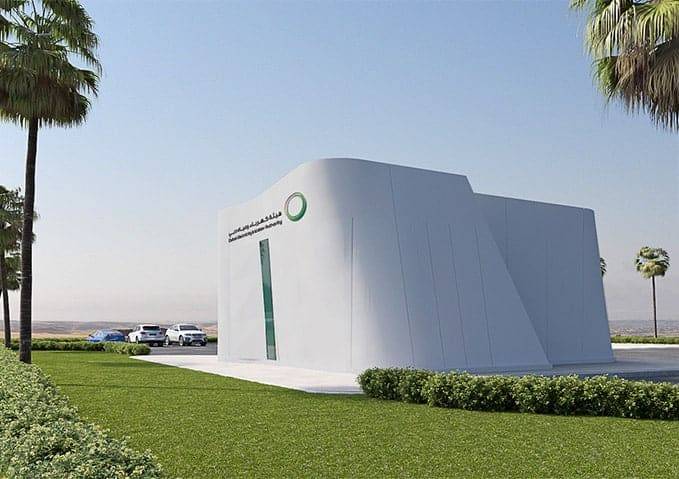 Oil and Gas
Spare parts that are critical to operations and that are high in cost to be kept in inventory can be easily printed just in time for usage. This will be one of the biggest applications of 3D printing in the future. However, ensuring the digital model is available and the process of manufacturing is certified could be the biggest challenge. In events like pandemic or in case of an extra ordinary situation like war, the availability of spares could be a major issue. Oil and Gas companies now are moving towards digitizing the inventory and making available alternative sources for the spare parts. Advent of 3D scanning, modelling capabilities, material testing and understanding of failure modes in AM will further help the growth of adoption of 3D printing in Oil and Gas applications.
Education and Research
Students are the next users of technology. The universities and colleges in the region are supporting the technology by introducing additive manufacturing in their curriculum. There are courses offered in undergraduate levels and master and research programs dedicated to AM in the region. Schools have included 3D printing as a method to kindle creativity in the students and many of them have fab labs in their campuses. In addition, support from governments of various countries have enabled the establishment of fab labs where entrepreneurs and innovators can 3D print their designs and prototypes.
Service Bureaus and resellers in the Region
Almost all countries in Middle East by now have service bureaus established locally. Most of them have a mix of entry level machines and industrial machines. Most of them carry the capability of reverse engineering by scanning, 3D CAD design, part optimization and post processing like painting, polishing that provides customers with one stop solution from concept to realization of the product. Almost all the main 3D printing OEMS have representation in the region through multiple resellers. However, some of the companies support directly.
Future of 3D Printing in Middle East
The focus of the governments to move towards non-Oil focused economy puts manufacturing as one of the key industries that will develop in this region. Socio-economic factors and situations like pandemic have made countries realize that they will have to develop self-sufficiency in manufacturing critical items.  Recent experience of blockage of Suez Canal and its impact on logistics have triggered interest in the idea of distributed manufacturing, rather than having one manufacturing center for the world. Additive Manufacturing is the ideal choice for this approach. Governments in Middle East are promoting youth to become innovators to make products made in the country and exported outside. All these factors put 3D printing in a path of growth in the region and the future looks promising.