Reinforced Polymer Composites based 3D Printing is currently utilised in aerospace and defence industry and is growing domain. Additionally, new technology and machines being developed is transforming its potential in industrial applications
The use of Reinforced Polymer Composites materials has been increasing rapidly over the last few decades due to their high strength and stiffness to weight ratio, which is difficult to achieve using conventional materials. Composite manufacturing can be tailored for complex geometries without any compromise in their mechanical properties. Composite materials in broader perception are composed of two or more different phases like a matrix phase (usually metal, ceramic or polymer) and a reinforcement phase (particulates, continuous or discontinuous fibers, etc.) Among these, fiber-reinforced polymer (FRP) composites offer some distinct advantages over other composite systems. These composites possess considerably higher specific strength and modulus properties, are lighter in weight, and offer more flexibility in designing large structures and finished products than other composite counterparts.  FRP composite products are conventionally manufactured using established processes like hand layup, vacuum-assisted resin transfer molding (VARTM), resin film infusion (RFI), or autoclave pre-preg processes.
However, traditional composite manufacturing processes are time-consuming and are heavily dependent on skilled manpower. The scope of human error is always a major concern during these 'irreversible' manufacturing processes, which can lead to derailment of the fabrication process or serious manufacturing flaws in the product.  The industry has so far managed to overcome the limitations of human error by using automation in fiber layup processes for additive manufacturing of composites.
PLA and a polyurethane-type filaments as the thermoplastic matrices and an epoxy as the thermoset matrix widely practicing in industries. The PLA filament and CF was smoothly extruded from a nozzle for thermoplastic composites and lot of literature available on thermoplastic additive manufacturing of composites. For thermoset composites widely following automatic tow placement methods for composite manufacturing.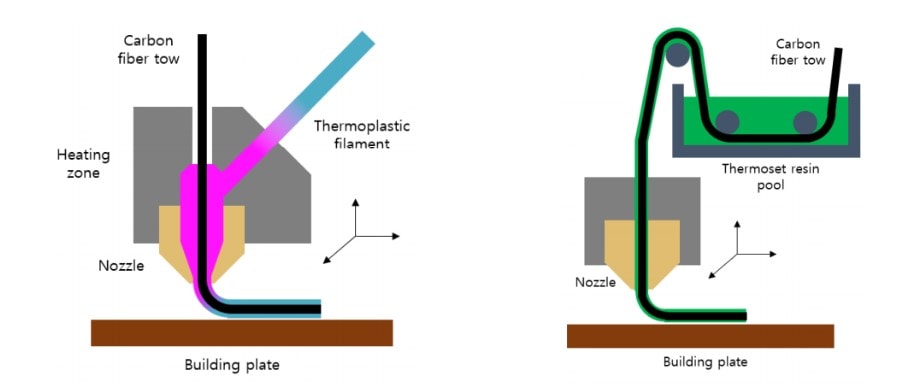 It became clear that the manufacturing process was extensive, and automation would be advantageous. Two of the cornerstone automated processes to appear were automated tape laying (ATL) and automated fiber placement (AFP) as shown in figure 2.
1. Automated Fiber Placement (AFP)
The AFP process consists of a gantry/robotic system with an attached fiber placement head. The AFP head enables multiple strips of composite material, or tows, to be laid onto a tool surface. Adhesion between the incoming tows and substrate is ensured by using appropriate process conditions such as heating, compaction, and tensioning systems. A series of tows forms a course, courses are then combined to create a ply, and multiple plies create a laminate
Thermoset prepregs utilize a combination of fibers and thermoset resins. Thermoset resins are polymer resins with a relatively low viscosity, and when cured form a rigid 3D lattice structure
These materials are the most common AFP material used because they are the easiest to manufacture due to the comparatively low ideal processing temperature required for successful layup. Since the processing temperature required to reach the gel or melt point of the material is close to room temperature, less heat is necessary leading to easier manufacturing. In addition, thermoset tapes require a secondary processing step, such as autoclave consolidation, increasing processing time and cost. Typically, thermoset processing temperatures should not exceed ≈70◦C in order to prevent initiation of the cure reaction within the resin. Further, due to the thermoset resin within the material, it is required to keep the material frozen to slow the curing reaction.
2. Automated Tape Laying (ATL)
Tape laying head operate without any difficulties for carbon/epoxy tape at speeds up to 100 m/min while achieving aerospace grade placement accuracies on complex contours. It applies 75 to 300 mm carbon/epoxy tape with any orientation and number of plies, ensuring consistent quality, part shape, thickness and strength. The head allows fast, simple side loading of tape rolls up to 300 mm wide and 650 mm diameter.
AFP systems differ from ATL in the width of the material that is laid down with typical material widths of 3.2 mm, 6.4 mm, and 12.7 mm, however AFP will normally deliver several tows in a single sequence, termed bands. A band then forms a course, while a sequence of courses is termed ply. Presently, AFP can deliver up to 32 tows in parallel at linear speeds of up to 1 ms-1.
AFP productivity is typically lower than ATL because it is generally employed for more complex parts. For example, productivity for layup of a complex fuselage section is 8.6 kg/h, which is about half of current ATL rates. During AFP layup tow tension on the head is negligible or controlled to be very low to enable layup into the convex geometries and features.
AFP systems tend to use flexible rollers to compress the material to get reduce voids formation between two layers as well as final cured composite part, but as previously mentioned for ATL the short contact times may be ineffective to achieve sufficient compaction. To heat the tape shot torches, Laser, and infrared irradiation techniques are used. Robotic systems improve the affordability of AFP since industrial robots are significantly cheaper than gantry units, and as force during layup of the tapes result robotic AFP systems are presently cheaper than comparable gantry AFP or ATL systems.
Subscribe to AM Chronicle Newsletter to stay connected:  https://bit.ly/3fBZ1mP 
Follow us on LinkedIn: https://bit.ly/3IjhrFq 
Visit for more interesting content on additive manufacturing: https://www.amchronicle.com
References
MAG's new GEMINI Composite Processing System – Kemble & Drum Communications Inc
com
CAESA Automated Fiber Placement (AFP) and Automated Tape Laying (ATL) technologies.

Subscribe to AM Chronicle Newsletter to stay connected:  https://bit.ly/3fBZ1mP 

Follow us on LinkedIn: https://bit.ly/3IjhrFq 

Visit for more interesting content on additive manufacturing: https://www.amchronicle.com