As 3D printing is making its cut through various industries and is widening its horizon of scope and applications, Ceramic 3D Printing is now the latest trend to come under the spotlight. Owing to their various excellent properties, ceramics are used in a diverse range of applications, including the chemical industry, machinery, electronics, aerospace and biomedical engineering.
The Global 3D Printing Ceramic Market size is expected to reach 797.9 Million by 2028, exhibiting a Compound Annual Growth Rate (CAGR) of 27.1% during the forecast period. The aerospace & defence segment accounted for a share of 39.7% in terms of value in the 3D printing ceramic market in 2020 and is projected to reach USD 172 million by 2025 at a CAGR of 30.2%. The healthcare sector is projected to experience the second highest CAGR of 26.5%, growing from USD 25 million in 2020 to USD 82 million by 2025.
According to SmarTech Publishing: 3D ceramic printing showed $98 million in 2018. Which can further be measured against the $3.6 billion expected in 2028.
3DCeram, a French Company specializing in 3D ceramic processes and materials, is dedicated towards providing a 3D printing process for technical ceramics.
3DCeram has chosen Shree Rapid Technologies (SRT) as its official partner to intensify the foothold of the company and advance 3D Printed Ceramics in the Indian market. Established in 2007, Shree Rapid Technologies is one of the prime suppliers of additive manufacturing technology in India, with global brands as the principal partners.
3DCERAM specializes in three areas of application for ceramic AM: industry (defense, automotive, investment casting/foundry cores), aerospace and aeronautics, and biomedical.
Aerospace/Defence:
Foundry Cores:
3DCERAM and Avignon Ceramic join forces to create U3DC, with the aim to provide the precision foundry industry with proven solutions in both the production of 3D printed ceramic cores and to offer a complete printing solution (machine, materials and process).
Biomedical/Dental:
3DCeram has developed its mastery of the 3D printing ceramics process, its machines, materials and services as maintenance and training. The large range of printers from C100 EASY FAB to C3600 ULTIMATE, depending on production capacity requirements for biomedical devices or dental.
Industrial Applications (Electronic insulators, sanitary applications, heat exchangers, etc.):
The 3D printers by 3DCERAM makes 3D ceramic printing of complex parts that are difficult to produce using traditional methods possible. It allows manufacturing of parts without expensive tooling, which is particularly interesting in cases of small series production, individually designed parts or freedom to change the design of some engineered components.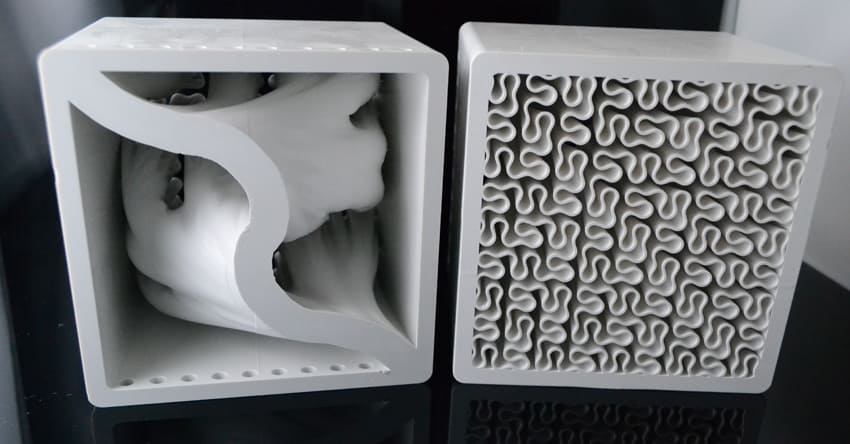 3DCeram's 3D printed ceramics technology, the stereolithography (SLA), offers enormous flexibility when designing items for different sectors. In addition, the Ceramaker 900 FLEX from 3DCeram, makes it possible to manufacture large items of impeccable quality to drive your innovation process to the next level.
When it comes to ceramic 3D printing, 3DCERAM has achieved milestones in the areas of aerospace, by driving process opportunities for Anywaves https://bit.ly/3tY3PtK , in the areas of hybrid 3D printing processes by creating a technology that has the solution to print materials together https://bit.ly/3q8lf5H and so on.
Moreover, 3DCERAM is the privileged partner of major industrial groups, world-famous players of the engineering industry and has immensely contributed towards application of different industrial segments: chemistry, oil & gas, water treatment, electronic, automotive and other industries.
Industrial applications of Technical ceramics:
– Filtering of fluids and gases because ceramics are chemically inert and are resistant corrosion and temperature applications include filters, dies, tooling, gaskets, tightness rings;
– High temperature applications: injectors, nozzles, temperature probes, pressure and temperature sensors, heating components, heat recovery components;
– Electronic insulation: insulation components, connectors, inserts, tubes with cooling channels inside, different insulation disks and bushings;
– Sanitary applications: handles for tools in contact with food or medical substances;
– Heat exchange: heat exchangers with internal channels, furnace inserts for cooling;
– Electronics for electrical insulation and ionic conduction properties of ceramics: honeycomb solar absorbers, antennas (for satellites, 5G, drones etc..),rigid supports for electronic devices, housings for components, parts for infrared emitters, induction coils;
– Various wearing parts because of resistance to abrasion of ceramics and longer life cycle of ceramic parts: different kinds of nozzles for fluids and gases etc.;
– Different hardware because of good mechanical resistance and stiffness: clamps, fixing supports, housings etc.
With an experience of over 20 years to develop 3D printing of technical ceramics, 3DCERAM brings in a lot of advantages or benefits in this area. Namely building parts with optimized design for more efficient applications. For example, in aeronautics, a printed part allows more compact assemblies with a more optimal integration with the end goal of a significant reduction of the total mass. With vast innovation and constant technological upgradation, 3DCERAM aims to provide complete printing lines (printers, materials, equipment and services to operate the technology transfer) to its customers. For which 3DCERAM has established a strong relationship with Shree Rapid Technologies, to increase their Indian representation.
As the outlook of 3D printing is changing, so is the spirit of production. With focus being on environmental issues, to produce the right quantity of parts with little or no waste, it is heading in the right direction as a relevant prototyping process that doesn't involve any tooling. It will decrease the need for expensive stocking of multiple parts, enhancing the JIT system and custom part production process. In short, we are heading towards a revolution in 3D printing that has commenced now!
For end-to-end 3D printing solutions, visit www.shreerapid.com
___________
Subscribe to AM Chronicle Newsletter to stay connected:  https://bit.ly/3fBZ1mP 
Follow us on LinkedIn: https://bit.ly/3IjhrFq 
Visit for more interesting content on additive manufacturing: https://www.amchronicle.com/