Bringing you up to speed with the week that went by in the world of Additive Manufacturing with the AM Chronicle weekly news update 
The round up of last weeks additive manufacturing news includes Agnikul secures patent for 3D printed rocket engine; $51 million in Series-B funding for Skyroot who are using 3d Printing for their cryogenic engines; Northrop Grumman speeds up additive manufacturing process for advanced weaponry; Divide by Zero launches AION 500;3D systems announces  CuNi30 alloy for metal additive manufacturing and more
Agnikul Cosmos secures patent for its 3D printed rocket engine
India based spacetech company, Agnikul Cosmos, has secured a patent for the design and manufacturing of its single-piece 3D printed rocket engine from the Government of India.
India based Skyroot, which utilises AM for manufacturing cryogenic engines, raises $51 million
Spacetech startup, Skyroot Aerospace has raised $51 million in Series-B financing round led by GIC, making it the largest funding round in the nascent sector. The company uses additive manufacturing for research and production of components for aerospace.
Divide by Zero Launches AION 500, Industrial Grade 3D Printer
Divide by Zero Technologies (DBZ) has introduced the AION NX 3D printer, which represents the next frontier in large format hybrid 3D printing in India. AION NX caters to the needs of pattern and mould makers, large component manufacturers in the automotive, defence, and aerospace industries, as well as R&D innovators.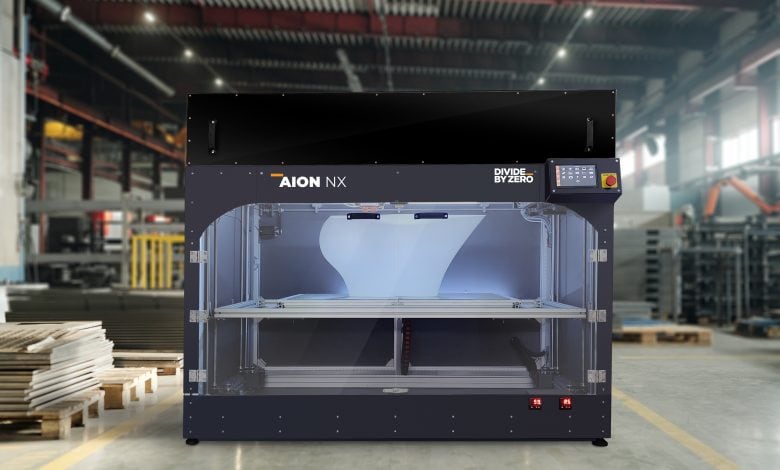 Creality Partners with BASF Forward AM and Launches Professional-grade Sermoon D3 featuring HP-ULTRA filaments
Creality entered a partnership with Forward AM, the brand of BASF 3D Printing Solutions, to expand professional-grade 3D printing applications. Creality also launched the fully-enclosed FDM 3D printer Sermoon D3 featuring HP-ULTRA, a high-end filament series Creality co-developed with Forward AM specifically designed for Creality 3D printers.
Northrop Grumman speeds up additive manufacturing process for advanced weaponry
Northrop Grumman Corporation is accelerating development of high temperature materials through its Scalable Composite Robotic Additive Manufacturing Carbon/Carbon to support emerging hypersonic and high-speed weapons.
CityU invents a method to convert 3D-printed polymer into a 100-times stronger, ductile hybrid carbon microlattices material
Researchers at City University of Hong Kong (CityU) recently discovered a low-cost, direct method to turn commonly used 3D printable polymers into lightweight, ultra-tough, biocompatible hybrid carbon microlattices , which can be in any shape or size, and are 100 times stronger than the original polymers.
Formlabs Expands Asia-Pacific Management Teams With Key New Hires as the Company Continues to Grow Its Operations Worldwide
Formlabs adds Jiadong Sun as China General Manager and Yoshinori Hasebe as Japan General Manager to scale the company's growth in these markets.
3D Systems Announces First to Market CuNi (CuNi30) Alloy for Laser Powder Bed Fusion
3D Systems  announced launch of CuNi30 , a corrosion-resistant, copper-nickel alloy for use with its DMP Flex 350 metal 3D printer.
PUNCH Torino and ROBOZE sign an agreement
PUNCH Torino and ROBOZE signed a partnership agreement to accelerate the industrialization of 3D printing in the automotive and marine sectors.
Optomec and Acme Manufacturing Showcase the Industry's First Fully Automated Work Cell for the Additive Repair of Turbine Parts
Optomec and Acme Manufacturing will showcase an industry first, fully automated work cell initially optimized for repairing aviation compressor blades made of titanium.
Subscribe to AM Chronicle Newsletter to stay connected:  https://bit.ly/3fBZ1mP 
Follow us on LinkedIn: https://bit.ly/3IjhrFq 
Visit for more interesting content on additive manufacturing: https://www.amchronicle.com/