In today's world, maximum products are manufactured using injection molding. However, fabricating moulds can be expensive and time-consuming. Thanks to desktop 3D printing, moulds that were traditionally known to be machined out of metal can now be 3D printed.
So, let's see what is mould making.
Molding or mould making is the act of creating the cavity/form that carries a negative or reverse impression of an original model.

The printed three-part mould with the caps injected in polyethylene
Various industries benefit from the common products manufactured using mould making techniques namely, automotive, bottle components, electronic components, toys, entertainment, medical, agriculture, kitchen and food service, even smartphone production.
Traditionally, the mould manufacturing process usually consists of several steps. Throughout the process, various testing for form, fit and function are required to discover any part flaws. It requires more manual labor than automated production and is expensive as well as time-consuming. Another approach to mould manufacturing involves the digitization of as many steps as possible. This approach is referred to as rapid or digital manufacturing and offers various benefits over the former such as reduced time to market, labor overhead and asset use with better quality, mass production and cost-effectivity.
Although digital manufacturing is not just about mouldmaking but also about 3D printing in general, we today are going to talk about how digital manufacturing has transformed the mould making industry.
Mould making with 3D printing has the ability to supplement and enhance traditional manufacturing techniques to create new and exciting possibilities, which ultimately creates better end products for consumers. It allows engineers and designers to increase the functionality from their 3D printer beyond rapid prototyping and directly 3D printing parts.
3D Printers these days come in various shapes and sizes but the most common entry level, high accuracy 3D Printers are offered by Formlabs. Given the size of the Formlabs 3D Printers and the latest Low Force Stereolithography, the desktop 3D Printers have changed the way moulds are manufactured today.
With their small size, desktop 3D printers are ideal for otherwise small workspaces. They offer a space-saving solution to manufacturing companies with confined spaces. They can fit on the surface of a desk, making them an attractive choice for small workspaces.
The desktop 3D printers Form 3+ with a build size of 145mm x 145mm x 185mm and Form 3L with outer height of 28.9" (73.5 cm), width of 30.5" (77.5 cm), and depth of 20.5" (52 cm) by Formlabs make them an ideal choice for manufacturing units with compact spaces. These desktop 3D printers make use of the Stereolithography (SLA) technology providing a cost-effective alternative to machining aluminum moulds. Combining traditional techniques like injection molding, thermoforming, or silicone molding with SLA 3D printed parts allows you to bring products to market faster with a more time and cost-efficient manufacturing process. mouldmaking with Formlabs 3D printers opens up a world of production materials, and provides the ability to produce short run batches and test mould designs prior to committing to expensive tooling.

The Holipress next to the Form 3 printer
This combination of Formlabs 3D printers with traditional manufacturing techniques-called rapid tooling has grown in popularity as the affordable 3D printers have become versatile, industrial quality workhorses.
A chunk of this growth belongs to the proliferation of high-performance SLA printing materials by Formlabs, which gives engineers access to a wide range of plastic materials. For example, Rigid 10K Resin, a highly glass-filled resin created for precise industrial parts that will be dimensionally stable under load and can withstand the clamping and injection pressures without breaking. Another material, Tough 1500 Resin, balances elongation and modulus, Parts printed in this material can bend significantly and quickly spring back to their original shape, which facilitates the demoulding of the part. Materials such as Tough 1500 Resin and Rigid 10K Resin have enabled a range of demanding rapid tooling applications from injection molding to composite molding.
The combination of powerful SLA materials and high-resolution 3D printers by Formlabs means rapid tooling leading to savings in both time and money compared to traditional manufacturing methods such as CNC machines.
Today, we will shed some light on these rapid tooling workflows:
1. Injection Molding:
Being the leading process for manufacturing plastics, injection molding is widely used for mass-producing identical parts with tight tolerances. It is a cost-effective and extremely repeatable technology that yields high-quality parts for large series.
Desktop 3D printing is a powerful solution to fabricate injection moulds rapidly and at low cost. It requires very limited equipment, saving CNC time and skilled operators for other high-value tasks in the meantime. Manufacturers can benefit from the speed and flexibility of in-house 3D printing to create the mould and couple it with the production force of injection molding to deliver a series of units from common thermoplastics in a matter of days, even for complicated mould shapes. Injection moulds need to withstand clamping pressures, injection pressures, injection temperatures, and any coolants or mould release agents that may be used. Doing so ensures the mould can be repeatedly used overtime and consistently produce parts true to the original design.
Formlabs offers a range of materials that meet these requirements and are capable of replacing aluminum moulds for low-volume manufacturing.
• To support short-run injection molding, Formlabs developed Rigid 10K Resin. The combination of strength, stiffness, and thermal resistance makes Rigid 10K Resin an ideal material for injection moulds. Rigid 10K Resin has an HDT of 218°C @ 0.45 MPa and a tensile modulus of 10,000 MPa, making it a strong, extremely stiff, and thermally stable molding material that will maintain its shape under pressure and temperature to produce accurate parts.

A mould 3D printed in Rigid 10K Resin
• High Temp Resin is an alternative material that can be considered when clamping and injection pressures are not too high.

The mould printed with High Temp Resin next to the two-straps injected in polypropylene
• Grey Pro Resin should be chosen when pressures and temperatures are low and the dimensional accuracy of your molded part is less critical. moulds made from Grey Pro Resin will bend before breaking, potentially increasing longevity, but potentially worsening accuracy over time as the mould is used.

POM football cleats injected in the Holipress from moulds printed with Grey Pro Resin.
2. Overmolding:

Overmolding for Customer Beta Prototypes for Dame Products
Overmolding is a multi-step injection molding process where two or more components are moulded over top of one another. Overmolding uses fewer work-hours (and thus, costs less) compared to other manufacturing methods.
Overmolding is often the best manufacturing method for large production runs and/or products with colorful and multi-layered designs. Similar to injection molding, overmolding has excessive upfront costs. It is time-consuming and expensive to manufacture and modify tooling out of metal, and two-shot injection molding machines are complex to dial in.
Prototyping is a crucial part of the product development process. However, prototyping overmolded parts can get very expensive, very fast. Also, it can be time-consuming at times if you are outsourcing. Some are overcoming these prototyping challenges by combining manufacturing processes like overmolding and insert molding with 3D printing.
3. Vacuum Forming:

A vacuum forming mould printed in Formlabs High Temp Resin accompanied by the final vacuum formed part.
Vacuum forming is a manufacturing method used to shape plastic materials and is used for creating the packaging of various goods.
During the vacuum forming process, a sheet of plastic is heated and then pulled around a single mould using suction. From grocery store salad mixes, the lid of your to-go cup of coffee, and high-end consumer electronics, vacuum forming is useful for producing lightweight, cost-effective packaging.
Creating vacuum forming moulds with traditional manufacturing processes like machining or casting is time consuming and costly, especially for complex geometries, textured surfaces or fine features.
Formlabs SLA 3D printers deliver high resolution, smooth prints which are perfect for vacuum forming moulds. SLA printing offers almost total design freedom and the ability to print intricate and detailed moulds. Plus, in-house SLA 3D printing offers a fast turnaround time and low price point, especially for shorter runs, custom parts, and prototype designs.
4. Silicone molding:

One-piece silicone moulds are ideal for designs that have a flat side and no deep undercuts.
Creating silicone moulds has seen increased adoption across multiple industries, most noticeable consumer goods and jewelry.
Silicone is a strong choice for mould-making because it offers such a diverse array of benefits. You can easily create durable custom designs using silicone moulding and can use them repeatedly without fear of breakage. Silicone is highly resilient to heat and cold, chemical exposure, and even fungus.
Desktop 3D printers by Formlabs offer many benefits, including design flexibility within CAD software, high accuracy, ease of prototype modification, and quick turnaround times.
Many users turn to Clear Resin when creating silicone moulds. Clear Resin is most commonly used, because it provides a visual queue for mould filling. However, depending on your clamping pressure, other resins in our Tough and Durable Resin Family may be more appropriate.
5. Composite Molding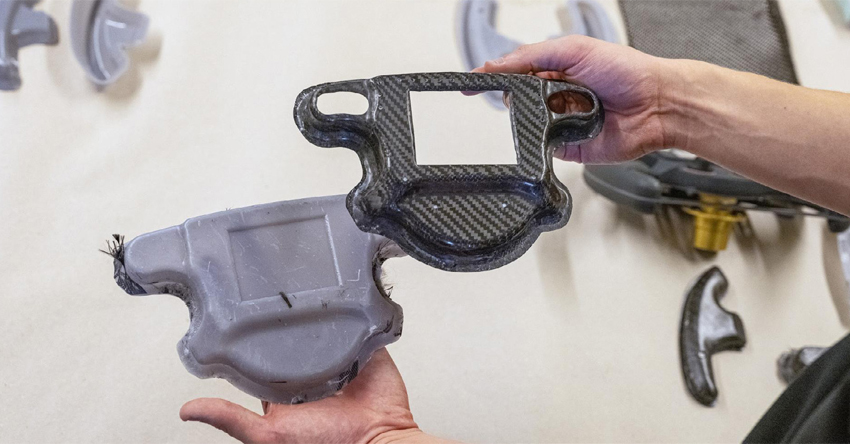 The 3D printed mould and the demoulded carbon fiber part for the steering wheel front housing.
Composites are highly versatile and efficient materials, driving innovation in various markets from aerospace to healthcare. They enable the fabrication of high-performance lightweight products by outperforming traditional materials such as steel, aluminum, wood, or plastic.
Fiber-reinforced polymers (FRP) dominate the market and have fueled the growth of new applications in various industries. The most popular composite materials include carbon fiber, fiberglass, and kevlar.
Using 3D printed moulds and patterns allows businesses to reduce workflow complexity, expand flexibility and design opportunities, and reduce costs and lead time.
For small-scale production, engineers can directly print the mould in a few hours at low costs and can achieve complicated mould shapes with fine details.
Formlabs' SLA 3D printing technology creates parts with a very smooth surface finish, which is essential for a layup mould. It allows for complex geometries with high precision. Additionally, the Formlabs Resin Library has engineering materials with mechanical and thermal properties that pair well with mould and pattern manufacture.
In-house desktop SLA 3D printing requires limited equipment and reduces workflow complexity. Professional desktop printers from Formlabs are affordable, easy to implement, and can be quickly scaled with the demand.
With the recent release of the Form 3L, Formlabs's large format SLA 3D printer, this process can now be easily scaled to large moulds to better enable innovations in markets such as automotive and aerospace.
Mould making with Formlabs SLA 3D printers is a powerful strategy for producing parts in small batch quantities, and in commonly used plastic and elastomeric materials. For different types of mould making, the growing Formlabs material library offers a wide range of options, from High Temp Resin to Rigid 10K Resin, all of which enable engineers and designers to create the moulds they need for any application.
There are two types of Formlabs SLA 3D printers that are best suited for the applications you are planning to produce:
The Form 3+:
Our go-to compact, workhorse SLA printer. Scale prototyping and production as your business grows with the Form 3+, an affordable, industrial-quality 3D printer that consistently delivers.
The Form 3L:
A large format 3D printer compacts enough for the office and robust enough for the factory floor. Bring your biggest ideas to life with the Form 3L, a cost-effective large format 3D printer that doesn't compromise on the details.
SRT's partnership with Formlabs aims at building the 3D Printing industry in India and expanding the adoption of 3D Printers across industries, by combining the technological expertise of Formlabs with the sales and marketing presence of SRT. Formlabs' affordable range of 3D Printers and the sales and marketing reach of SRT will improve every manufacturer's accessibility to 3D Printing, irrespective of the investment capability or industry.
Think Big Think Form 3L now expand your fleet with $1000 Off for a Limited Time. Bring home a Form 3L Today. For more details reach out to us on marketing@shreerapid.com
Subscribe to AM Chronicle Newsletter to stay connected:  https://bit.ly/3fBZ1mP 
Follow us on LinkedIn: https://bit.ly/3IjhrFq 
Visit for more interesting content on additive manufacturing: https://www.amchronicle.com/