eplus3d and Siemens showcase an automotive component, designed and produced for achieving lightweight design and material efficiency.
Light-weighting design by Siemens on EP-M260
In today's case study, we will present how an automotive component was designed and produced with the increasing demand of lightweight design and material efficiency. A product that helps to save costs and differentiate from the competition. For its customers to be at the forefront of product development techniques, Siemens Digital Industrial Solutions decided to show off the state-of-the-art design tool of an automotive racing car accelerator pedal using its Generative Design Module in Solid Edge.
As proven by Siemens, benefits of parts designed for lightweight are:
Improved performance
Reduced environmental impact
Saves precious material resources
The accelerator pedal was designed in a way that a multi component assembly was merged into a single model. Due to this merging of four parts into one, the labour cost of assembling was saved, and product complexity and inventory cost were reduced. The sheet metal manufacturing process that was previously used for all four components and welding procedure were eliminated. A material change from steel to aluminium helped as well to reduce the total weight of the accelerator pedal by 62%. For more info check the below video at min. 9:25.
To reach this result in Solid Edge, constraints are being set in the Solid Edge Generative Design module first. In this step, the outer forces, pressures and torques that the part needs to withstand during usage are defined. Secondly, all surfaces that are fixed in certain directions or angles will be set. After defining all constraints, the Generative Design Study will be started with setting a goal for the minimum Safety Factor or the weight that wants to be reached with this optimization. The whole process of Generative Designing using Solid Edge can be found in the below video by Siemens starting from min. 11:40.
A fully lightweight design like the automotive accelerator pedal is limited in manufacturing methods and can usually only be produced by additive manufacturing. Therefore we manufactured three different types of optimized models which were optimized by our partner ISAP as demonstrators of generative design. These parts were printed using the aluminium alloy AlSi10Mg on our EP-M260 Dual-Laser System.
The three models now help ISAP to showcase the benefits of generative design for lightweight very well. One model shows the initial stage of an AM part, that weights almost the same as the initial part made from sheet metal. The first optimization iteration shows a part that has still a high safety factor and is partially optimized for topology. It weights 373g, which is a reduction in weight of around 14%. While the second iteration is designed for lightweight without compromise, it only weights 164g, which is a drastic reduction in weight of 62% to the original assembly. With EPlus3D's Additive Manufacturing equipment, complexity is no longer a choice not to take because cost would increase. Complexity is free, which is why the last iteration of optimization should be chosen when it comes to a lightweight, still durable solution for a racing cars acceleration pedal.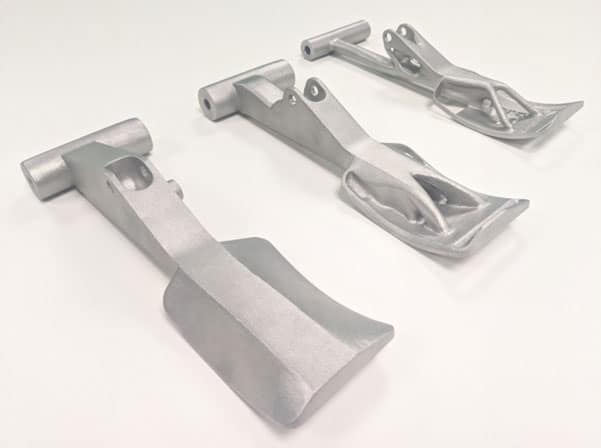 Subscribe to AM Chronicle Newsletter to stay connected:  https://bit.ly/3fBZ1mP 
Follow us on LinkedIn: https://bit.ly/3IjhrFq 
Visit for more interesting content on additive manufacturing: https://www.amchronicle.com/
For more information and similar case studies on metal additive manufacturing register for metal additive manufacturing symposium : https://www.amchronicle.com/metal-additive-manufacturing/